Meet Jerry.
Jerry has agreed to help us demonstrate how big our packing boxes are. Actually, to be honest, we created him specifically to perform this task. So he didn't really have a choice. Poor Jerry.
Anyway, Jerry's a fairly average guy:
In the illustrations below, the boxes have been scaled to match Jerry's proportions – so you can see how each packing box sizes up to a human. We've also given some examples of items you might be packing and how many you could fit in.
Tea Chest Cartons
The tea chest carton is one of the largest boxes in the Box Shop. Jerry himself could just about squeeze inside, if he was a bit more flexible and willing to try.
Because of their size, tea chest cartons are best for light items like clothes and plastic containers. We don't recommend filling them with weighty items like books, as they'll end up too heavy to move. You should put heavier stuff in book cartons. Speaking of which…
Book Cartons
Smaller than tea chest cartons but just as tough, these medium sized boxes are well-suited to smaller but heavier items.
As the name implies, book cartons are perfect for packing books. But these cardboard creatures won't discriminate against other items, such as kitchenware, DVDs or shoes.
Archive Boxes
*Not really. Please don't transport your adorable pets in this manner.
Archive boxes are ideally suited to storing files (treasured school reports, tax documents and receipts, Playboy magazines that you "just read for the articles", that kind of thing).
However, they can also be handy for other small items. The carry handles make these packing boxes quite convenient, so consider buying a couple of spares for DVDs, knick-knacks, cutlery, and that drawer of random cords and Nokia chargers that you probably could throw out but better not just in case.
Computer Monitor Cartons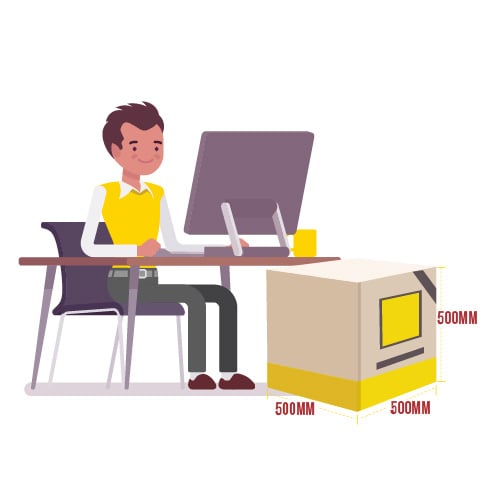 Don't be fooled by this box's name – you can use it for a great deal more than just computer monitors and TV screens. (Though if you do have a house full of screens, feel free to use these boxes exclusively for those. Don't forget the bubble wrap!)
Since these boxes are quite large, they're great for light and bulky items – like toys. And because they're perfect cubes, these packing boxes are also a breeze to stack together.
Flat Pack Cartons
Flat pack cartons work best for things that can be – you guessed it – flattened. For example, linen, blankets, towels and clothes will feel right at home in one of these boxes.
See our similar sized flat pack box here.
Wait, there are even more packing boxes to choose from!
Need to move or store something that won't fit nicely into one of the packing boxes above?
No problem.
The Box Shop also has a variety of specialty boxes.
Wine Cartons with Inserts
Wine Box & Inserts cater up to 12 bottles per box. Because you're a seasoned connoisseur and collector of fine wines. Or you fancy a mid-week drink (or 4) and have enough foresight to stay stocked up.
Port-a-robes
Port-a-Robes are 109cm tall with breathing space and hanging ability. Because some dresses and suit jackets should never be rolled up or folded. (1 in 10 National Storage port-a-robes are also gateways to Cardboard Narnia*.)
*Not true.
Picture / mirror cartons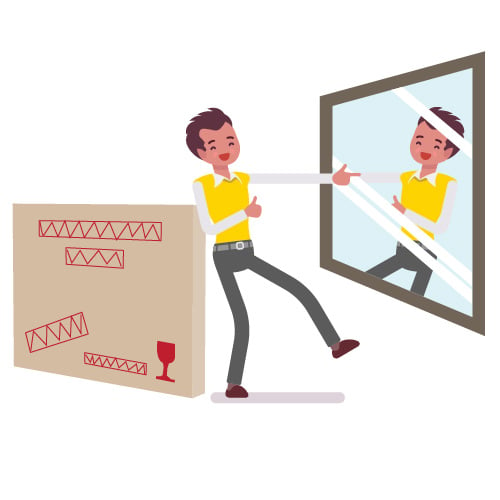 77cm x 104cm with prominent 'FRAGILE' and 'DO NOT CRUSH' warnings. This is your best choice for paintings, mirrors, framed prints, and flatscreen TVs up to 50″. You can see our Picture/Mirror Box here.
Moving bags
Not strictly a box, but still capable of moving things (when picked up and carried). These bags have handy straps to make moving easier, but you shouldn't overload them with heavy items. Moving bags are 20% more attractive than moving boxes*.
*Also not true … or is it? I guess it's subjective.
Disclaimer
So here's the part where we cover our butts and plainly state something that's probably common sense.
Your packing experience may vary from the numbers above. We've done our best to be accurate and thorough but we don't know your life.
Like…
Your pillows might be twice as thick and fluffy as ours.
Your magazines might have more pages.
Maybe all your shoes are clown shoes.
You get the idea.
If your stuff doesn't fit perfectly in your assorted boxes, don't panic. Just pop down to your nearest National Storage and pick up that extra tea chest carton you need. Or do some decluttering for goodness' sake.