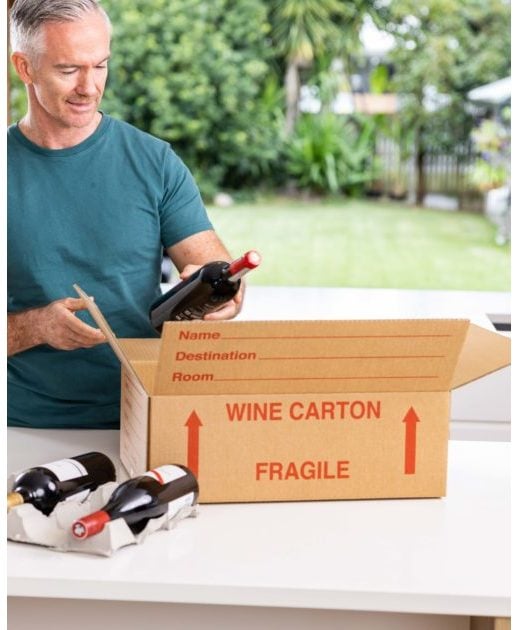 Wine Box & Insert
Ideal for moving wine safely.
Dimensions: L: 515mm x D: 330mm x H: 190mm
Buy Wine Boxes Online
Are you looking to store your wine safely and cleanly? Then our wine boxes are the perfect solution for you. All avid wine enthusiasts understand that the way of storing your wine is an extremely critical process. National Storage wine boxes provide the convivence and safety that you need when storing. Our wine boxes include an insert and horizontal box that promote the safest way to store your wine. Apart from other similar boxes, our packaging can ensure the safe transport of your wine, as well as making sure that is stored in the most effective way of protecting your wine from spoiling.
Best used for
Ideal for moving wine safely.
FAQs
What is a wine box?
---
A wine box is a cardboard moving and storage box that is designed to ensure that your wine stays clean, safe, and stop it from spoiling. Storing wine can be a lot more complicated than people think, and due to this, a wine box must be used. By using a wine box, the wine is stored horizontally, instead of vertically. This is crucial, especially in the moving and storage phase, to make sure that the wine does not spoil and keeps safe. If your wine is stored in a vertical position, it is easier for oxygen to seep into the wine and expose it to the outside air. This cannot happen as the wine will not stay in the best quality. The cardboard wine box also assists in the storing phase, as it has a slimline design means that it can stack up, whilst also ensuring the safety of your wine. Additionally, the 12 wine bottles fit into the box correctly, as there are wine inserts that are provided when purchasing the box.
Are wine boxes recyclable?
---
Fortunately, wine boxes and their inserts are made from cardboard, meaning that they are easily recyclable, whilst also having many ways to repurpose them. One of the most useful ways of repurposing wine boxes is to use them in the areas that have high traffic to protect your flooring. Additionally, you can choose to welter down the wine box to help combat the weeds in your garden. You can achieve this by cutting the wine box into small strips, placing them above the affected area, then wetting them to ensure that they stay in place. This can be resulted from cardboard boxes being decomposable, and therefore leaving them to breakdown over time and suffocate the weeds.
What quantity of wines boxes can I buy?
---
You can buy as many wine boxes as you find necessary! Each wine box contains room for up to 12 wine bottles. These will all comfortably fit in, in a horizontal formation to ensure that your wine stays safe and drinkable for an extended amount of time. Maximising space in storage units is an essential task, and due to this buying, only a certain number of boxes needed is necessary. To ensure all your wine also stays the right temperature, this is best moderated by using the boxes to their full potential and filling them with the 12 bottles. This is easily done with the insert that is provided when buying the wine boxes.
Can I use wine boxes for moving?
---
Definitely! Wine boxes are the best and most innovative way of moving your possessions. Storing 12 wine bottles safely within the box, it provides any wine enthusiast with a safe way to transport their wine. As well as ensuring that the wine stops from shattering, it also has the wine stored horizontally, instead of vertically. This means that there is less oxygen that seeps into the wine and keeps it from spoiling. If the wine is transported vertically, there will be contamination through the cork and will speed up the process of the wine spoiling.
Shipping
National Storage or its agent will deliver the goods you order to the address you specify in your order, within the agreed time frame, subject to their availability.
National Storage's days of operation for delivery are Monday to Friday servicing locations across Australia and New Zealand. The minimum delivery fee is $19.95. Please refer to the delivery service fee calculator on https://nationalstorage.com.au/online-shop/ available prior to checkout to determine if your delivery address is within our service area and the correlating delivery fee. The delivery fee is also subject to the quantity and size of your order.
Once your order has been placed, National Storage or its agent will provide you with a tracking number. Should you wish to amend your order details or have any queries, please contact our customer service team on 1300 217 115 if you are located in Australia or 0800 541 055 if you are located in New Zealand.
The standard timeframe for delivery is 3-5 business days for metro areas. Please note, due to Covid19, our deliveries can experience delays of up to 5 business days.
Anyone at the delivery address who receives the goods will be presumed by National Storage or its agent to be authorised to receive the goods.
If there is no-one at the delivery address or no-one of appropriate age to receive the order, National Storage may charge you additional delivery fees.
Returns
National Storage will provide a refund for the actual price paid for the goods by the customer where:
a. the goods are returned by the customer within 7 days of purchase;
b. the goods are in an "as new" and re-saleable condition;
c. the goods have not been used and are still in their original packaging; and
d. the customer provides valid proof of purchase.
Any refund processed must be refunded via the same payment method. Refunds will not be processed to a different card or account than the original purchase card/account.
If you do not have valid proof of purchase, we can provide you with an exchange
"Faulty or damaged goods"
Our products come with guarantees that cannot be excluded under the Australian Consumer Law or the Consumer Guarantees Act (NZ).
You're entitled to a replacement or refund for a major failure and you're also entitled to have the goods repaired or replaced if the goods fail to be of acceptable quality but the failure does not amount to a major failure.
We will accept product returns and provide you with a replacement, refund or repair where:
a. The product is faulty or is not of acceptable quality; or
b. The product is not fit for its intended purpose; or
c. The product does not match its sample or description.
We recommend you retain your receipt, as we may require proof that you purchased the product from us.
Please be advised that from 1 July 2022, we will no longer be buying back boxes as a part of our buyback program.