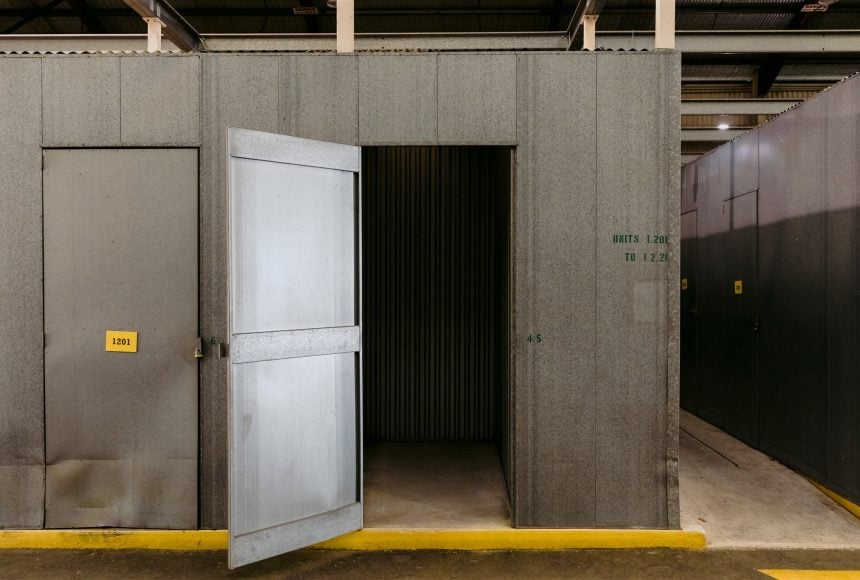 Storage Hornsby
28 Salisbury Road,
Asquith NSW 2077
Office Hours
Mon-Fri: 8am - 5pm
Sat: 9am - 2pm
Sun: Closed
Access Hours
Mon-Fri: 5am - 9pm
Sat: 5am - 9pm
Sun: 5am - 9pm
Book online, make a reservation or get a quote.
NSW Covid-19 Update —
To ensure the safety of our customers and staff, we ask you to adhere to social distancing requirements, and wear a mask and check in when visiting a centre. Please call 1300 216 803 for more information.
Our Hornsby Storage Centre
Available Storage Units
---
Small - 1 × 2m
(2m2)
A small unit is perfect for storing anything from 2 large suitcases, to a partly furnished 1 bed apartment.
Size guide
Upper Level
Forklift required

This unit does not have goods lift access. Large items will require forklift assistance from one of our centre staff members
$64/mo
Medium - 1.6 × 4.3m
(6.88m2)
A medium unit can comfortably fit belongings from a fully furnished 1 bed apartment, to a 2 bed home.
Size guide
Ground Floor
$275/mo
These units are selling fast!
Medium - 3 × 3.1m
(9.3m2)
A medium unit can comfortably fit belongings from a fully furnished 1 bed apartment, to a 2 bed home.
Size guide
Driveway Access
$414/mo
These units are selling fast!
---
View all units at Hornsby
24/7 Access Hours Available
Receipt & Dispatch
Trailer Hire
Truck/Ute/Van Hire
Driveway Units
Truck Access
Vehicle/Caravan/Boat Storage – Uncovered
Bulk Storage
Forklift Available
Powered Units
Trent Black
I reviewed head office buy thought I should give props to the guys at Hornsby who made made sure I got the best self storage unit for my need (recently downsizing into new accommodation for the short period so needed storage.
Jennie Cunningham
Very easy to access your unit after hours. Staff are really helpful.
BG Granger
Have been using National Storage for nearly 10 years. So convenient. I can access my unit at any point. The staff are great and will let me know when something had arrived. I remember getting a large Christmas present delivered there so the kids wouldn't see it. They were so thoughtful and stored it in their unit just in case the kids were with me when I visited. That's caring customer service.
Kelvin Bourke
Jessica in the office was very helpful and took time to show me around the site.
Our Hornsby Centre
National Storage Hornsby features mainly ground floor storage units making it one of our most accessible and convenient storage facilities.
While storing with our Hornsby self storage centre, you can rest assured knowing your goods are safe and secure, with our centre having 24 hour CCTV surveillance, pin-coded access gates and frequent lock checks of all units.
National Storage Hornsby is located on 28 Salisbury Road, just 4 minutes North from Hornsby Ku-ring-gai Hospital and Westfield Hornsby.
Suburbs near our Hornsby centre…
Asquith | Wahroonga | Thornleigh | Mount Colah | Berowra
Self Storage Unit Facility
What is the minimum storage period at National Storage Hornsby?
One month. You can speak to our storage experts to tailor a solution if you require storage for a shorter period.
Do I need to pay a deposit?
We don't require a deposit but if you wish to pay a deposit upon booking, the sum will be applied to your first month of storage.
How can I move my things into the storage unit?
We provide move-in trailer hire and vehicle hire, along with access to our goods trolleys, pallet jacks, forklifts and drivers. We can also recommend a removalist service if required.
What does "hardstand" mean?
A "hardstand" is an outdoor space that is commonly occupied by vehicles and boats. It is open to the elements.
How much notice do I need to give when moving out?
We require at least seven (7) days' notice of your intention to move out.
What can I put in my Hornsby self storage unit?
Customers generally use our storage units in Hornsby to store items such as:
Furniture
Vehicles
Clothes
Collectibles
Appliances
Books, magazines, DVDs, and CDs
Paperwork.
What can't I put in my self-storage unit?
Items prohibited from our storage facility include:
Toxic or combustible items (e.g. gasoline/petrol, paint, and solvents)
Perishable items (e.g. animal food, fresh food, and contained/tinned food)
Living things (e.g. plants and pets)
Illegal items and items that have been obtained illegally
Weapons.