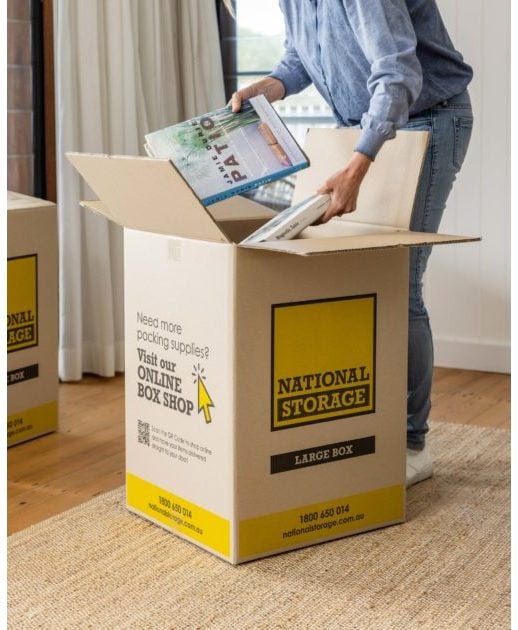 Large Packing Box
Great for light, bulky items eg. clothing and plasticware.


Dimensions: L: 431mm x D: 406mm x H: 596mm
Buy Large Boxes Online
A successful move requires different size boxes and most likely, lots of them. To prevent damage to items – and possibly straining your back – pick small boxes for heavy items like books, and keep big boxes manageable by filling them with large, lightweight items. Think pillows, linen, lampshades, pots and pans. Made of corrugated cardboard, large moving boxes are light but strong. They are easily sealed with packing tape and can help to tame the chaos in your home or storage unit. You can stack big boxes to get the most out of your space. Avoid crushed boxes by placing lighter boxes on top of heavier ones. Big boxes also offer an inexpensive alternative to plastic containers: simply get creative and cover them in rope or fabric for beautiful storage boxes.
Best used for
Light, bulky items.
FAQs
What are large boxes best used for?
---
Large cardboard boxes are perfect for moving house, as well as long-term storage. They are very handy to transport high-volumes of lightweight items. But big boxes don't have to be a big problem after a move. Cover them with fabric, paper, rope, or paint, for a creative and cost-effective alternative to plastic storage totes. Once you can realistically gauge how much packing space you have, you may even decide to keep some items in boxes. Big moving boxes are quite easy to collapse and keep for the next time you, or friends and family, move. Large cardboard boxes can also unlock hours of fun; they make great toy forts for kids and can be cut up for craft projects.
What to pack in large boxes:
---
When packing for a move, large boxes come in handy in every room around the house. But big boxes can get heavy, hard to handle, and even lead to damage if you overload them. So, it is key to use the right box for the job. Large cardboard boxes are ideally suited to carry and store bulky, lighter items like lampshades, curtains, towels, bedding, and pillows. They are also perfect for some smaller appliances as well as pots and pans. To prevent boxes from toppling over, place heavier items on the bottom.
How to recycle large boxes:
---
Because they are made of cardboard, big boxes are pretty straightforward to recycle. But there are plentiful things you can do to help reduce your environmental footprint: Large cardboard boxes can be used to cover high-traffic zones and protect the floor surface during your move. In the garden, you can use damaged boxes to combat weeds. Simply cut the cardboard into strips, position them over the problem areas, and then wet it to keep it in place. Cardboard is compostable, so the pieces will decompose over time.
Can I use large boxes for moving?
---
Yes! Big boxes are very useful to move and store large, lighter items. They are not too big to carry and are easy to seal with packing tape. Large cardboard boxes are ideal to move things like pillows, lampshades, and stuffed toys. Your belongings will have a better chance of staying intact if you don't weigh down large moving boxes.
What quantity of large boxes can I buy?
---
It is always a challenge to guesstimate how many boxes you will need for a move, but chances are you will need more than one big box to pack up your home. That is why our large packing boxes are sold as singles, as well as in cost-effective packs of ten.
Shipping
National Storage or its agent will deliver the goods you order to the address you specify in your order, within the agreed time frame, subject to their availability.
National Storage's days of operation for delivery are Monday to Friday servicing locations across Australia and New Zealand. The minimum delivery fee is $19.95. Please refer to the delivery service fee calculator on https://nationalstorage.com.au/online-shop/ available prior to checkout to determine if your delivery address is within our service area and the correlating delivery fee. The delivery fee is also subject to the quantity and size of your order.
Once your order has been placed, National Storage or its agent will provide you with a tracking number. Should you wish to amend your order details or have any queries, please contact our customer service team on 1300 217 115 if you are located in Australia or 0800 541 055 if you are located in New Zealand.
The standard timeframe for delivery is 3-5 business days for metro areas. Please note, due to Covid19, our deliveries can experience delays of up to 5 business days.
Anyone at the delivery address who receives the goods will be presumed by National Storage or its agent to be authorised to receive the goods.
If there is no-one at the delivery address or no-one of appropriate age to receive the order, National Storage may charge you additional delivery fees.
Returns
National Storage will provide a refund for the actual price paid for the goods by the customer where:
a. the goods are returned by the customer within 7 days of purchase;
b. the goods are in an "as new" and re-saleable condition;
c. the goods have not been used and are still in their original packaging; and
d. the customer provides valid proof of purchase.
Any refund processed must be refunded via the same payment method. Refunds will not be processed to a different card or account than the original purchase card/account.
If you do not have valid proof of purchase, we can provide you with an exchange
"Faulty or damaged goods"
Our products come with guarantees that cannot be excluded under the Australian Consumer Law or the Consumer Guarantees Act (NZ).
You're entitled to a replacement or refund for a major failure and you're also entitled to have the goods repaired or replaced if the goods fail to be of acceptable quality but the failure does not amount to a major failure.
We will accept product returns and provide you with a replacement, refund or repair where:
a. The product is faulty or is not of acceptable quality; or
b. The product is not fit for its intended purpose; or
c. The product does not match its sample or description.
We recommend you retain your receipt, as we may require proof that you purchased the product from us.
Please be advised that from 1 July 2022, we will no longer be buying back boxes as a part of our buyback program.