Moving out of home for the first time is a big deal. There are heaps of things to keep in mind when it comes to living independently.
Before you step out to take on the world alone, be prepared with this checklist of everything you need when moving out of home for the first time.
Set up utilities
Get all utilities set up at your new place, starting with electricity and the internet. How will everyone know about your awesome new crib if you don't have any Wi-Fi to post about it?
You probably won't need a landline phone, but you'll still need an active line if you want broadband or fibre. This is a good bet if you don't want to chew through all your mobile data in the first few days.
Here's a quick list of everything you should need to connect:
Electricity
Gas (for cooking or hot water – it's probably not included in your electricity plan!)
Broadband (naked, or with home phone)
Pay TV, if you don't Netflix (!)
Get insurance
Organise home and contents insurance to keep your goodies covered in case of theft or damage. (Note: If you're just renting, home insurance is the property owner's responsibility. Contents-only insurance is still a good idea though.)
Notify change of address
You'll have to let certain establishments know you're changing address. Don't forget this step… imagine getting fined because you never received your voting or rego renewal papers!
Department of Transportation
Banks
Electoral Office
ATO & Superannuation Fund
Health funds
Doctor, dentist or vet
Club memberships
This will ensure your important mail goes to the right house. You may like to visit your post office or the Australia Post website and redirect your mail for a few months – just in case.
Get rid of your junk
Don't take all your unused junk with you to your new place. Start fresh by culling your belongings to make sure you're only taking the important stuff. Not sure whether to hold on to your beloved childhood teddy bear? Take this quiz to determine what to keep and what to toss, or, get a tailored quote for your closest centre!.
Budget for moving expenses
Make sure you budget to cover all your moving expenses. Whether you're hiring a trailer or treating your helpers to pizza and beer, you'll have to be prepared to cover the costs.
Remember the big 4: Bond, movers, utilities, household goods.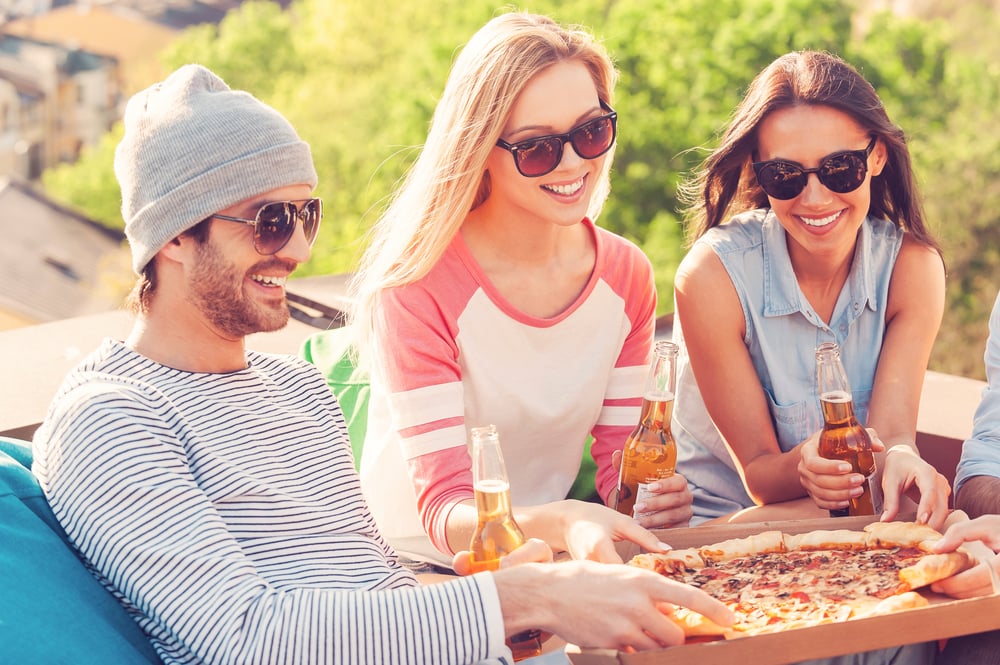 Hire movers (or friends who owe you)
Will you need to hire removalists, or recruit some family and friends to help move you in? Either way, get it organised before the big day to ensure things run smoothly. At busy times of year, you might need to book a week or two in advance. Check out our recommended removalists here in your state.
Get what you need
There are a few basic items you'll need in your new house to make it a functional home. And no, we're not talking about your Breaking Bad boxset. (But take that too.)
Bedroom
A bed. Avoid putting your mattress on the floor – this just puts you closer to the dust on the floor. And no, it doesn't look "shabby chic".
A bedside table to hold a lamp, a glass of water (you WILL kick it over if it's on the ground) and whatever else you might need.
Somewhere to store your clothes. This might be a hanging closet or dresser drawers – either is fine. No one likes a floordrobe.
Lounge room
A couch. Whether it's brand new or second-hand, you'll need something comfy to sit on.
Somewhere to put your TV. Even if it's just a couple of crates draped in a sheet – as long as it's sturdy, it doesn't matter.
A coffee table. Seriously. Even if it's just for putting your legs up on.
Bathroom
A laundry basket. Because piling your dirty clothes up in the corner is not OK (anymore).
A bin. You know you're not going to take the empty toilet rolls all the way to the kitchen bin, because effort.
Kitchen
A chopping board. Don't risk losing your bond by chopping veggies on the kitchen bench.
A pan and a pot. You can cook 99% of recipes using this combination.
Oven mitts. Don't be a tough guy.
General must-haves
Cleaning supplies (bicarb and vinegar will own almost anything, and cost next to nothing)
Toilet scrubber and plunger
Spare light bulbs (go LED – they last longer and use less power)
A first-aid kit
A basic toolbox
Pack your stuff
Label boxes by room and contents to make unpacking easier. Don't forget to label your breakables as "fragile": our box shop offer a marker pen here. You're going to need those wine glasses intact. You can pick up some packing tape here and boxes to keep your wine glasses safe here.
Sign your lease
Sign your lease and pick up the keys to the new place. Celebrate your freedom with a nudie-run through your new home. Make sure the curtains are closed.
Get your bearings
Research your new area to get a feel for things. You'll want to suss out where the closest grocery store, service station, doctor and bank are. Also: bottle shop. Suss that out too.
Fancy finding out about other Aussies on the move? Get learning in this fun infographic.
Have too much stuff for your new place? It's time to get a self-storage unit. Discover our affordable, flexible options here and book today. Otherwise, if you're after a wide range of boxes and packaging to keep your items safe and clean, our box shop offers an extensive range here.