Dreaming of jumping on a plane unaccompanied? You go, girl.
While solo female travel may be a scary concept for some, there are plenty of incredible countries perfect for women travelling alone.
If you want to get out of your comfort zone but still feel safe and secure on your lone mission across the ocean, these solo travel destinations will help you plan your next voyage.
So get ready to be the strong, independent woman you are and live it up on an adventure of a lifetime – with no one there to tell you that's probably enough wine, Sara. You don't need that kind of negativity in your life.
Canada
You want friendly locals? You want breathtaking scenery? You want a ripper of an overseas trip without feeling like you need to check over your shoulder? Canada has all that and moose.
It's easy to navigate, has a super low crime rate (18% lower than Australia's), and is a seemingly endless buffet of natural beauty. Plus, English is the country's major language (except in Quebec and Nunavut), so you'll have no trouble ordering that extra plate of poutine.
Be sure to check out all the wonderful winter activities in Alberta, such as Nordic skiing and ice fishing.
Safety Tip: Avoid a run-in with a grizzly or black bear in Canadian parks by storing any food in airtight containers and keeping it out of sight of bears.
The Netherlands
Relaxed and laidback, the Netherlands' capital is a top spot for solo female travel. Despite how it may be depicted in movies, Amsterdam isn't all "special" brownies and nudity without warning. There's plenty of excitement outside the Red Light District, so hire a bike and treat yourself to the sights and sounds of this beautiful city.
Don't miss the Van Gogh Museum, the Anne Frank House, and leafy Vondelpark, located right near the famous IAMSTERDAM sign.
Safety Tip: Avoid walking through the Red Light District at night, when pickpockets and drug dealers can surface.
Japan
While it may be a hub of hustle and bustle, Tokyo sure deserves its spot atop the 2017 Safe Cities Index. With its polite and helpful locals, Japan as a whole is a pretty female-friendly destination, making it easy for women travelling alone to spend less time worrying about their surroundings and more time enjoying them.
Highlights of Japan include the Fushimi Inari-taisha Shinto shrine in Kyoto (you know, the big orange gates that seem to go on forever), and stumbling upon quirky boutiques and hole-in-the-wall bars in the hip Tokyo neighbourhood of Shimokitazawa.
Safety Tip: When travelling Tokyo by railway late at night or early in the morning, use the designated women-only carriages to avoid any unwanted interactions with male strangers.
Iceland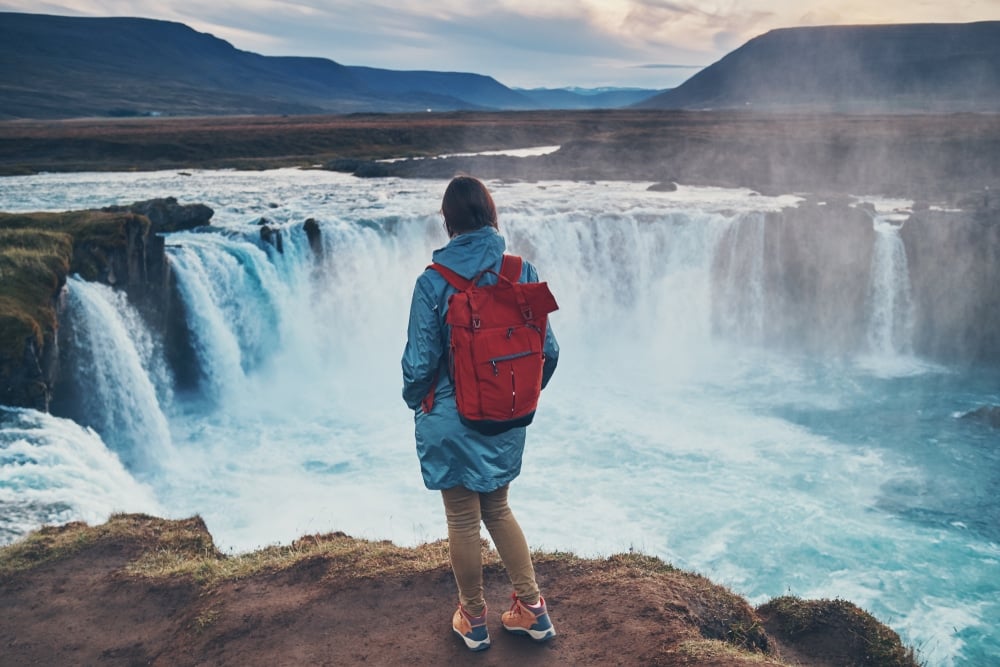 Forget TLC – do go chasing waterfalls in picturesque Iceland. This mesmerising wonderland offers unique adventures and endless photo opportunities, making it a must for your bucket list. It's also ranked as the safest country in the world, so it's perfect for solo female travel.
A few standout sights to add to your Iceland itinerary include the Blue Lagoon, a natural geothermal seawater spa, and the Gullfoss waterfall.
Safety Tip: When travelling in Reykjavik (Iceland's capital), take the bus. It's safe and much cheaper than a taxi, and Iceland doesn't have Uber.
Still not sure where to get your passport stamped next? Check out our top picks for travel in 2019 for more suggestions!
Getting ready to travel? Make sure your valuables stay safe while you're away by hiring a self-storage unit. Discover our affordable, flexible options here and book today.