More and more companies are considering how to reduce their impact with environmentally friendly business practices – saving money and improving their brand rep in the process.
You don't have to overhaul your whole operation to be kinder on the environment. There are heaps of little steps you can take to make a big difference.
We compiled 10 of our favourite ways to go green in the office, and spoke to the team at Shred-X about e-waste recycling and re-purposing.
Why go green?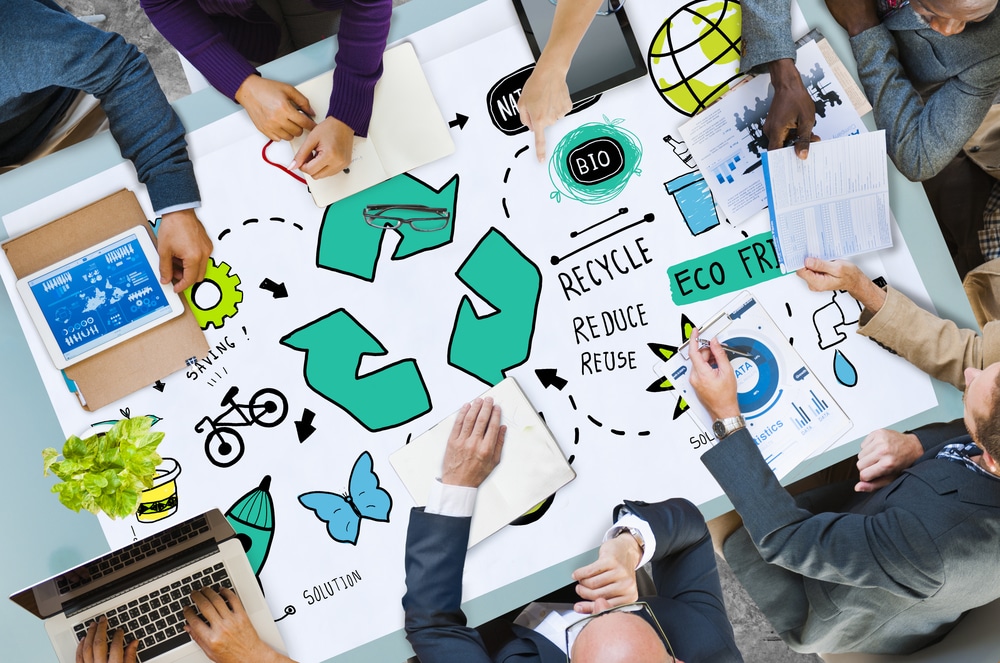 To Do Your Part for the Environment
We're not asking you to donate your car or stop showering; you can be eco-friendly without being extreme. Just a few small changes around the workplace can contribute to a happier earth.
Studies show 80% of consumers are concerned about the impact businesses have on the environment, and other research reveals 81% of consumers feel strongly that companies should help improve the environment.
As a business, you're responsible for your environmental footprint. If you can make it a little smaller, why wouldn't you?
To Improve Your Brand Image
It turns out environmentally friendly business practices don't just make you popular with Mother Nature – they can also help you win over customers.
Modern consumers are pretty switched on when it comes to social and environmental issues. They want to support brands who are consciously aware and share their values.
In fact, studies show 87% of consumers will have a more positive image of a company that supports social or environmental issues. More specifically, 62% of consumers have reported being drawn to brands focused on reducing plastics and improving the environment.
It's not enough to simply stock the product or offer the service a customer wants – consumers are choosing brands based on how environmentally conscious they are.
To Save Money
Sure, being kind on the environment and winning over the general public is cool and all, but what about your bottom line?
Well, going green can actually save you money on overheads like utilities, so it's a win-win-win!
10 Easy Environmentally Friendly Business Practices
Kickstart your journey to a greener business with these simple changes.
1. Go Paperless
Adopting a paperless working operation can save trees and the cost of constantly restocking copy paper. Consider using email and cloud-based networks to share documents rather than hitting 'print' every time. And stop it with the paper airplane races already.
2. Get Some Recycling Bins
Encourage staff to recycle items with strategically placed recycling bins. Put some in the kitchen and near desks to make it as easy as possible. Add a basketball hoop above the bins for incentive, if you must.
3. Switch to CFL Lights
Research shows CFLs use 66% less energy than standard incandescent bulbs. That's a win for Mother Nature and your bottom line.
4. Use Energy-Efficient Appliances
If you're still relying on old appliances, it might be time to upgrade. Most newer models are more energy efficient, so you'll eventually make your money back on your reduced power bill. Or you can buy an R2-D2 mini fridge in lieu of a Christmas party – we're not here to judge.
5. Give Up Bottled Water
Do you offer clients bottled water in meetings? Or maybe you stock the fridge with bottled water for your staff? Investing in a water filter system for the office sink or a standalone water cooler is a great way to provide clean, cool drinking water without the plastic.
6. Turn Off Electronics
Chances are your office is filled with gizmos and gadgets that chew up a heap of power – even when they're not being used. Make a habit of turning off all electronics at the end of the day.
7. Keep an Eye on Your Aircon
According to Canstar, a standard air conditioner's temperature should be set to 25-27°C for cooling in summer, and around 18-20°C for heating in winter to ensure maximum energy efficiency. We know you're still cold, Susan, but your cardigan is more effective on your body than the back of your chair.
8. Let Employees Work from Home
If your team is able to telecommute, consider yourself lucky. Allowing employees to work from home – even if it's just on occasion – can reduce company utility use and expenses over time.
Working in a shared office can also help reduce your carbon footprint. Check out our list of the best coworking spaces in Australia.
9. Reuse Ink Cartridges
Did you know you can refill your ink cartridges when they run out, rather than spending money on an entirely new cartridge? What an age we live in.
10. Recycle Old Electronics
Yep, that's a thing – and not enough businesses are doing it.
"In today's dynamic, fast-paced world of IT, the life cycle of the electronic device has shortened considerably," explain the e-waste pros at Shred-X. "Tech-savvy consumers chase the latest product variations to hit the market, and for businesses, having the latest technology and equipment is key to staying competitive. This raises the important question of what to do with unwanted electronic devices, or what is now commonly termed as e-waste."
There are two things to consider when your old desktop carks it and you decide to upgrade:
Legalities around the protection of your business's confidential information
Preservation of the environment.
Luckily, Shred-X's e-waste recycling service ticks both boxes, as they ensure that you not only protect your business but also adhere to your environmental sustainability responsibilities.
"As of 1 July 2019, the Victorian Government banned all e-Waste from going into landfill," Shred-X states. "This is a great step in the right direction considering e-waste is growing three times faster than the rate of standard municipal waste."
Recycling your office's old electronics is a great way to do your part in reducing that growth.
Become a recycling pro with our tips in How To Recycle: The Ultimate Guide. Or, see how National Storage can make your office feel cleaner by storing that excess stuff. Get a free quote here!