Feel like a little DIY fun this weekend? You don't have to be a handyman or woman to transform your old furniture into stylish one-of-a-kind pieces.
You don't have to be good at much at all, actually. Because these 5 furniture upcycling hacks make it pretty darn easy. Save yourself a trip to the dump and turn your old furniture into something you'll actually use with these upcycling ideas.
1. Turn a Coffee Table into an Ottoman
Image: industrystandarddesign.com
This one is perfect for those coffee tables with water rings that won't budge. Instead of splashing out on a new coffee table, give your old one a facelift with some padding and fabric.
Simply use a staple gun to secure foam padding and a funky fabric to the surface of your ottoman, and freshen up the legs with a lick of paint. This will give you a comfy ottoman to rest your feet during those lengthy Netflix binges. Just add a tray and you've still got a flat surface to place your coffee (or wine – whatever).
2. Turn a Crib into a Bench Seat
Image: adiamondinthestuff.com
If your little one has made the upgrade to a real bed, don't be too quick to get rid of their crib. Remove the ends of one side, and you've got yourself a bench.
Just be sure to test out its strength before you go taking a seat – you may need to swap out the original crib surface and legs for stronger timber and legs. Don't say we didn't warn you.
3. Turn a Door into a Dining Table
Image: pierre-pelle.com
Traditional dining tables are so 2017. Give your dining room some character with a unique table made from an old door. All the hipster cafés are doing it! You'll just need to grab yourself some legs from a hardware or furniture store, and maybe add a panel of glass to make a smooth table surface.
If you don't have an old door handy, check out your nearest tip shop or recycle market. You'll be amazed at the random crap awesome stuff you can find.
4. Turn a Window Frame into a Bedhead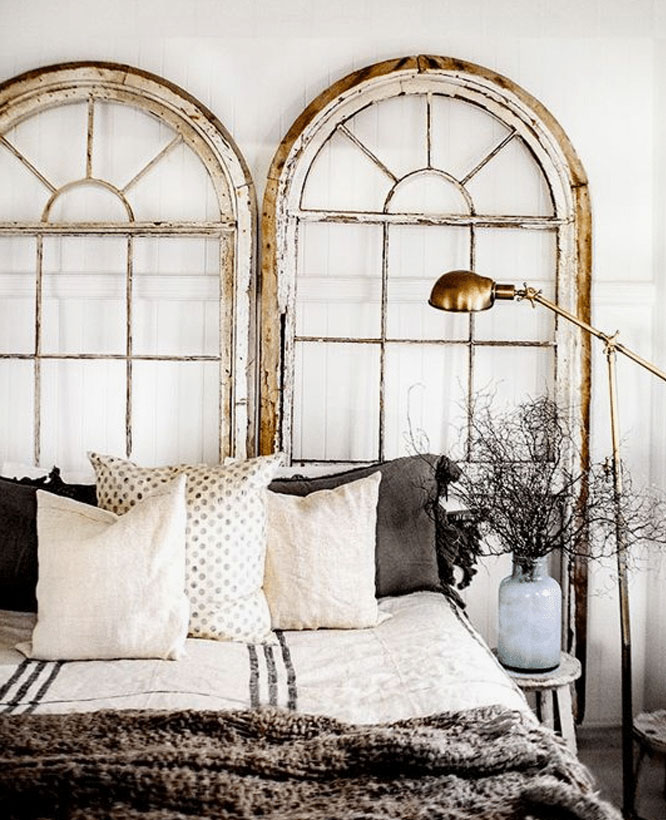 Image: apartmenttherapy.com
Sick of your boring old bed base and ensemble? Wish you could have a cool bedhead like the ones you see on Pinterest? Well, if you've got some old window frames (the quirkier, the better), you've got yourself a bedhead.
Just sand them back and add a fresh coat of paint, or keep them untouched for that shabby-chic look all us lazy people love so much. Then use nails or heavy-duty double-sided tape to secure them to the wall just above your bed. Use window frames in different shapes for added interest.
5. Turn a Buffet into an Entertainment Unit
Image: handimania.com
Is that ancient buffet finally on its way out? Turn it into a funky entertainment unit for your living room or kids' games room.
All it takes is removing a few drawers and adding plywood to create shelving for DVDs, PlayStations and the like. You might even like to add cane baskets for a modern touch. And don't forget the fresh coat of paint or lacquer.
Feels kinda good to roll up your sleeves (for, like, half an hour or so), right? Check out our top 10 home renovation hacks to keep the DIY inspo coming!
Got some furniture that can't be upcycled but can't be tossed away either? Get a self-storage unit. Discover our affordable, flexible options here and book today.