Whether you're backpacking on a budget or living it up in luxury accommodation, the first step to a successful overseas trip is packing your luggage properly.
These travel packing hacks will have you ready for your next big adventure.
Use the Right Bag
Before you start reaching for outfits and undies, make sure you've got the right luggage for your trip. It should be lightweight, functional, and suitable for how it'll be used.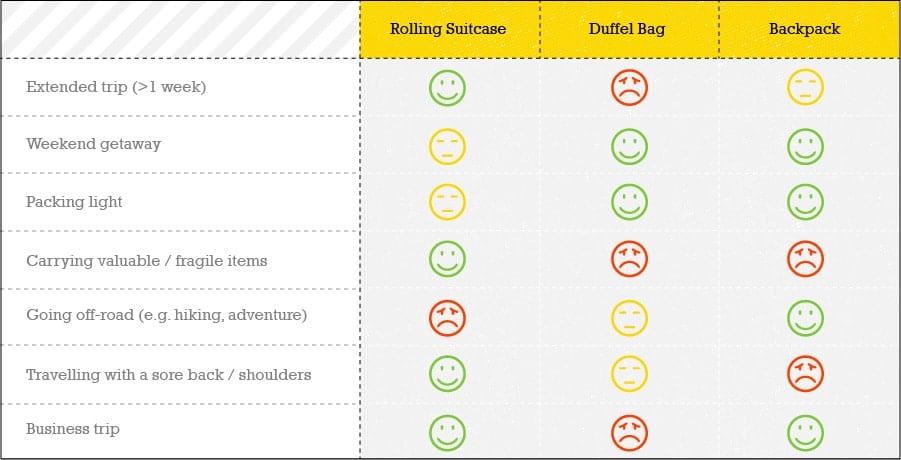 Rolling Suitcase
Rolling suitcases can generally fit a fair bit, and work best when travelling to one place as opposed to moving around a lot. They're easy to wheel around the airport and destinations with paved roads and walkways, but can be tricky to manoeuvre through busy crowds.
Best for: Staying in one place for a while
Duffel Bag
Duffel bags are a versatile option, mostly used as gym/sports bags or for weekend getaways. But these handy bags are also great for travel as they're lightweight and make for easy access to your things. You can even get duffel bags with wheels to give your shoulder a break.
Best for: Short-term travel – or packing light
Backpack
Backpacks are perfect when you don't want to lug around a suitcase. And with large backpacks designed just for travel, you don't have to compromise on storage space. If you're moving around a lot on your travels, or simply like having your hands free for snacks, a backpack is a great option.
Best for: Travel that involves a lot of mobility, such as backpacking and hiking trips
Research Your Destination
Study up on your destination to help determine what you will and won't need to pack. Things to consider might include:
Climate – Will you need a parka, or will a light jacket suffice? Should you pack gumboots, or are sandals more appropriate? Check out the climate during your visiting period to help guide what to take with you.
Laundry Facilities – Are you staying in a hotel with a washer and dryer, or are you likely to pass a laundromat on your travels? You can afford to pack less if you'll be able to wash your clothes frequently.
Activities – Will you be hiking through the jungle, or dining in a 5-star restaurant? The clothes, shoes, and accessories you pack should be tailored to the activities you'll be partaking in.
Make a Travel Packing List
Now you have a general idea of the weather and activities you can expect on your trip, you can make a list to suit.
While everyone's list will be different depending on their destination, length of stay, and travel style, this travel packing list template is a good place to start:
PRINT OUR TRAVEL PACKING LIST TEMPLATE
Sneak Preview of Our Travel Packing List (click image to download)
Optimise Your Space with Travel Packing Hacks
Here is where the real magic happens. These 10 travel packing hacks will change the way you pack forever.
1. Cull your clothing
Seriously, you're not going to wear everything you pack, so cut that pile down. Try planning your clothes by outfit, packing versatile pieces in a neutral colour scheme so you can mix and match items to create different looks.
2. Roll, don't fold
Rolling your clothing compresses it and makes it easier to stack, allowing you to use as much surface space in your bag as possible.
3. Pack socks inside shoes
This takes up less space in your bag and helps your shoes keep their shape.
4. Pack underwear inside bra cups
Again, this will maximise space and help your bras maintain their form.
5. Use shoes to fill gaps
Don't pack your shoes together – use them to fill gaps once you've packed your clothing.
6. Use packing cubes
Packing cubes help compress your items and organise them into colour-coordinated categories to make your things easy to find and make you feel like a real I've-got-my-stuff-together adult.
7. Buy travel-sizes toiletries…
Chances are your toothpaste, shampoo, body wash, and shaving cream are available in cute little clones. Opt for smaller sizes or buy small travel bottles and tubes to decant your products into instead of packing the full-sized bottles and tubes.
8. …Or use the ones in the hotel
Better yet, if you're staying in a hotel, make the most of the complimentary toiletries and leave your lotions and potions at home!
9. Leave belts flat
A rolled belt takes up space, while a flat belt laid along the edge of a suitcase barely makes a dent in your storage room.
10. Wear your heaviest items on the flight
If you're worried about your luggage weight, wear those heavy boots and parka on the flight to keep your bag on the lighter side.
And for the stuff you can't take with you? Find out why self-storage is the best place to keep your belongings while you're off exploring.